It's been quite a long time since you've heard from me. Due to a couple of very painful and protracted real estate transactions I lost nearly all of 2015 because I was living out of a suitcase. I'm now out of the Washington DC metropolitan area (thank you God) and well established at my mountain to the west.
With the interminable and frustrating move behind me, but also after YEARS of deep research (at very considerable cost!), I've made huge progress on my TIDAL WAVE documentary research during the last four months and am on track to release it this later year.
YES.
I HEREBY MAKE A PUBLIC COMMITMENT THAT I WILL RELEASE
BOTH THE BASIC AND EXTENDED VERSIONS OF MY TIDAL WAVE
DOCUMENTARY NO LATER THAN 1 DECEMBER 2016.
Actually I hope to have it on the street earlier than that, maybe even by 1 August 2016 (the 73rd anniversary of the mission), although that date is only 97 days away from the day I'm writing this update and there's a ton of work left to finish.
Problems, Challenges, and Champions
The Ploesti/TIDAL WAVE story has become quite seriously twisted over the decades since the action took place, first by an intentional US Army Air Force cover-up that offered a ridiculous reason for the first formation turning early and one group simply jettisoning their bombs in open fields and rivers before running for home. And unfortunately a few actual participants with axes to grind have allowed additional misconceptions and falsities to creep in.
This false history is a grave injustice to the bravery and self-sacrifice of the thousand-plus men who fought–and died–in the flash of flames and flak in that smoke-blackened sky.
One of the worst problems has come from an army of authors quoting each other's incorrect information, thus creating a circle of false facts that appear to validate one another. None of them bothered to check their facts before publishing.
Luckily for history, in the late 1950s and early 1960s Cal Stewart and Jim Dugan wrote what immediately became the literal "bible" on the mission, Ploesti: The Great Ground-Air Battle of 1 August 1943. A truly herculean effort, it was based on the very best information and eyewitness accounts available at the time.
Unfortunately for history, a mass of information that fundamentally changes the TIDAL WAVE story was still highly classified by the US and British governments at the time Stewart & Dugan wrote their book, and of course the Romanian archives were unavailable behind the Iron Curtain. Certain contemporary German documentation existed in the US, but was problematic since it was being prepared for return to Germany. Certainly the existing archives of the day in Germany were quite limited.
Another good/bad "standard" reference source that has confounded TW historians since the 1970s is Karl Otto Hoffmann's massive, multi-volume work Ln- Die Geschichte der Luftnachrichtentruppe. This German language work tells the story of the Luftwaffe's signals intelligence organization before and during the war. Unfortunately for us, his coverage of Luftnachrichten activities in the SüdOst (southeast; the area encompassing the Balkans) is rather spotty, imprecise, and almost entirely without listed references except the memories of a few participants.
Recently uncovered contemporary documentary evidence shows some of Hoffmann's material is incorrect–which is no condemnation of his work. Like Stewart & Dugan, he performed a herculean effort based on the best information available to him at the time and there is no other resource anywhere near the quality and breadth of his effort.
Stewart & Dugan, and Hoffmann, have been endlessly quoted and misquoted in subsequently published works without the authors bothering to check the underlying facts. Seeing the same "facts" quoted over and over–even though they came from the same two or three original sources–makes it appear to be accurate history. This is the circle of deception (intentional or not) I am talking about. "Hey, twenty-seven authors said exactly the same thing, so it must be true, right?" But repetition does not create fact.
I need to be very clear about this: Stewart, Dugan, and Hoffmann were the legitimate champions of their day, providing us with the very best information and analysis that was available to them at the time. They and their families have every right to be immensely proud of their work, and I am in awe of what they were able to accomplish. These men performed backbreaking labors to bring us the deepest and broadest information possible at the time they wrote. Unfortunately you cannot say the same about most other TW writers since then.
I Feel Like I'm In An Episode Of "The First 48"*
Writing history is quintessentially investigation. Historians, police homicide investigators, inventors, and legitimate scientists follow pretty much the same process.
You look at everything to find the important facts. You dig deep to find those facts. You keep digging to find more facts. You follow the trails created by sets of facts, or even a merely tantalizing morsel of information, to see where they lead. You pick experts' brains. You form hypotheses based on what you've found and test them against all the facts you can possibly gather–not to prove, but to disprove. You modify and repeat.
When you find a "hole" — when you're missing an obviously important fact — you verify as many other facts surrounding the missing piece as possible to justify informed conjecture–rather than pompous speculation–about the missing piece. (And sometimes that as good as it's going to get). You keep facts and conjecture separate, and don't forget the difference. You don't stop until you've wrung everything possible out of the archives, and then keep going because there's almost certainly more there you didn't find the first 15 times around. And on. And on.
Of course, for practical reasons at some point you have to say, "Stop. I have as much as I can reasonably get under the circumstances," and then finish the damned project. You do this knowing you don't really have everything, and as soon as you publish some punk in Poughkeepsie will pop up out of his parents' basement and say, "Why didn't you include this document-fact-photo-whatever?" Well, because nobody else in the world had access to that except you, and you didn't speak up!
This is the truth of it: you work your ass off, you do your very best, you get it done, all the while recognizing that however much you've accomplished, however much new and relevant material you've uncovered, it is NOT POSSIBLE to tell the whole story. Get 'er done, then let the next guy come along and build on your foundation (which you've built on the shoulders of your forebears). If your product informs and expands your audience's knowledge and understanding, if you've made them think, if you've challenged and corrected their preconceptions, you've done what you intended to do.
*An American TV show documenting the investigations of police homicide detectives across the country to find and arrest murderers.
Investigation Tidbits
As I've reported before, this project started with a huge research effort, a deep dive into to the original documentation in the Romanian, British, German, and American archives. I set out to be able to tell the story of TIDAL WAVE from the eagle's perspective, not the mole's. "War stories" are very interesting and great fun, but seldom explain anything approaching a comprehensible picture of the whole. I'm including "war stories," but to illustrate specific points and not as the main thread. Seriously, if all you want is war stories you can go to a multitude of previously published material about TIDAL WAVE and be perfectly happy.
A handful of sources have been particularly helpful.
The Background
Although barely mentioned in most accounts, TIDAL WAVE was one of–if not the–most "political" military operations of the war. I'll get into those details, as they formed the background and framework for the planning and execution. You won't look at TIDAL WAVE the same way ever again. The US and British National Archives and Library of Congress have been primary sources for this information, particularly the Franklin D. Roosevelt Presidential Library in New York. FDR has traditionally been portrayed as a president who maintained a "hands-off" policy towards the conduct of the war, which is easily proven inaccurate. I'll show his direct connections to TW.
The British
The British ULTRA decrypts of deeply secret German communications revealed the entire German order of battle at Ploesti on 1 Aug 43, as well as significant insights into the causes of failure in their early warning system (more about this below), political realities in Romania and Germany that limited their ability to respond to the American attack, and much more.
The British National Archives and to a lesser extent the Imperial War Museum and RAF Museum archives have revealed deep details on both the British support for the mission and high-level military and political considerations about the who, what, when, where, and why of TIDAL WAVE. Few Americans realize that although the British Government strictly enforced the "It's an American operation and must be seen as an American operation" public position, behind the scenes the RAF provided literally all the intelligence and photo reconnaissance support, a considerable amount of logistics support, literally all of the post-mission recovery and air-sea rescue, and a multitude of other support activities which allowed the mission to proceed.
On top of that, between Gen Brereton (Ninth Air Force commander) and Gen Eisenhower (theater commander), ALL the intervening commanders were British, and they were involved to one degree or another with the mission. Oh, and of course, a single RAF officer accompanied the TW crews, the only non-American to participate in the actual attack.
You can't understand the Ploesti story, let alone tell it, without understanding British involvement.
The Axis
I will prove the failure of the Axis air defense at Ploesti was every bit as momentous to the outcome as General Ent's early turn at Targoviste.
You're probably saying to yourself, "What the hell is he talking about–Axis air defense failure!?!! 1/3 of the bombers didn't make it home and he's calling that a "failure??"
Well, there's a lot more to that story and I'll prove it to you.
Documentation for this part of the story has come largely from German and Romanian archives; ULTRA, and German monographs from the Karlsruhe Collection on the German air defense and intelligence systems during the war, etc. For the first time anywhere you'll get a comprehensive picture of the defense and its problems and successes. This will blow the toupee clean off the top of your skull.
We'll explore the Luftwaffe early warning system, including the radar system and ground observer systems, and a bunch of other topics in ways you've never seen before. For the first time, things will make sense, and you'll come away with a vastly deeper understanding of how things really worked that day. As a very quick taste, here's the radar coverage map for the nine sites that surrounded Ploesti: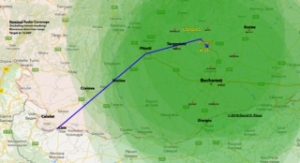 This is as scary as the flak coverage map I showed you earlier. And yet . . . something or some things went wrong on the Axis side.
You can't truly understand the TIDAL WAVE story without understanding the Ln (Luftnachrichten) involvement.
The Early Turn
General Ent's early turn at Targoviste, which led 2/5 of the attacking force on a bucolic excursion to Bucharest and resulted in one bomb group failing to attack and the other to be cut to ribbons, is the big issue most people know about. I've exhaustively researched this matter and will present my findings–another instance where the conventional wisdom about TIDAL WAVE will be turned on its head. This is a long story and analysis, so will be included on the expanded (premium) version second DVD. I'll also trace the routes of both the 93rd and 376th Bomb Groups, another point of contention over the decades. The evidence of where they actually went is pretty conclusive, and you'll get the full picture.
The Results
Many writers, especially non-Americans, have joyously declared the TIDAL WAVE mission a complete failure due to the high losses and puported minimal damage caused by the attack. This "analysis" is so superficial it hardly bears discussing, except that it's so widespread. You'll get the documented facts about what the attack cost the Axis, and it ain't what you've been told. The contemporary Romanian and German documents lay out the details in stark terms.
The actual results will not please everybody, and some folks are likely to be pissed off to the point of rejecting the facts. However, the Romanian bombfall plots at each refinery made immediately after the attack tell the story, good, bad, or ugly. Everyone is entitled to their own opinions, but not their own set of facts. I'll document the facts and after that it's up to you.
The German reaction, particularly Hitler and the OKW, is utterly fascinating. We haven't heard much about this in the past, so I'll lay it all out for you.
I've written enough for now. It's time to get back to the final steps in my research plan and the writing and producing of my documentary–I have a ton of work left to do. I'll try to do at least a couple more updates before the DVDs are released, and as always welcome your comments, questions, and suggestions.
Dave Klaus